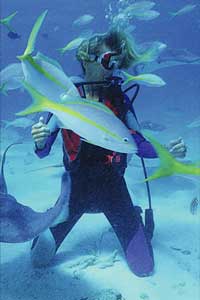 If you scuba dive, you must raise a diving flag to alert boaters. There are two distinct flags; check local regulations to determine the one used in your area.
The diver's flag has a red background with a white diagonal stripe. The blue and white Alpha flag is internationally recognized for "diver down."
If you are boating, exercise caution when approaching a diver's flag. Keep at least 100 feet away on interior waters, 300 feet away on open waters and bays. Also watch for air bubbles — divers sometimes accidently swim out of the safe area.