Many of us dream about retirement-no longer a slave to the daily grind, having the time to travel as we've always wanted, being able to volunteer regularly with our favorite charity, spending more time with friends and loved ones.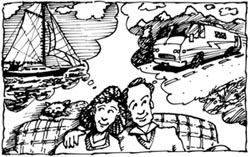 But dreaming about retirement and planning for it are two very different pursuits. While dreams can float around in our heads, the actual planning takes pencil, paper and a calculator. And it's a good idea to consult with a trusted professional. We can help answer many of your questions and demonstrate how you can evaluate and monitor your investments once a strategy is implemented that is right for you.
Here are some points to consider when getting started:
What are your retirement goals?
By the time you are ready to retire, you probably won't have the same expenses you do now, such as a mortgage or a child's college tuition. Other costs may claim a sizable share of your retirement income. Many financial planning experts estimate you may need as much as 80 percent of your pre-retirement income to make ends meet. This number may vary depending on specific needs, such as travel plans and medical expenses.
How long will you be retired?
Most of us have an idea of when we'll retire, but it is also important to estimate how many years we will spend in retirement. Many retirees' greatest fear is outliving their retirement savings and running out of money. One of the goals of a retirement plan should be to make the money last at least as long as you do.
What will it take to create your own paycheck in retirement?
The planning and investing you do during your working years will help ensure that you will be able to live comfortably and meet your expenses in retirement. Once you retire, personal savings, social security and any employer-sponsored retirement plan assets will replace the paycheck you rely on today.
Ask your employer for a projection of pension payments (if any) and request an estimate of Social Security benefits from the Social Security Administration (1-800-772-1213). The difference between your desired retirement income and your projected benefits will have to come from your personal savings.
Supplementing your company retirement plan with other types of plans, such as life insurance, annuities, individual retirement accounts (IRAs) and taxable investments can help you take advantage of all your savings choices.
We can provide professional guidance by explaining various investments and outlining strategies you can use to meet your goals. Call us today so we can help you plan for tomorrow.
When should you start saving?
While it's never too late to start saving for retirement, the sooner you begin an investment program, the longer you have to achieve your goals with less effort and resources required on your part. Over time, even the smallest steps can become a giant leap toward reaching your goals, thanks to the power of compounding.