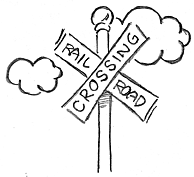 Don't get trapped at train crossing grades. Wait until the car in front of you has left enough room to let you get to the other side safely.
Most home insurance policies don't cover floods and mud slides. Call us for more information on how to get special insurance for these hazards.
If there's a young driver in your house who just landed a delivery job (such as pizzas), call us. Auto insurance policies are not intended to cover such work.
During severe electrical storms, unplug TVs, stereos and computers to avoid damage.