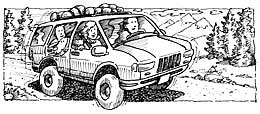 The popularity of sport utility vehicles and pickup trucks has exploded in the last decade. Some people buy them because they feel safer in these heavier vehicles.
But utility vehicles are built to clear off-road terrain, so they stand taller on the road than most cars. For their size, they also have a relatively short wheelbase (distance between front and back wheels) and narrow track width (distance between wheels from side to side).
It all adds up to a greater propensity for these vehicles to roll over in certain situations.
Today, rollover accidents are the leading type of fatal crashes in pickup trucks and sport utility vehicles.
How do rollovers happen?
The most common rollover accident occurs when the vehicle leaves the highway and its tires dig into soft or rocky ground, according to the National Safety Council. The vehicle can easily roll when the driver tries to quickly whip it back on the road.
Rollovers also happen when drivers try to take curves while traveling too fast. Other causes include being struck on the side by another vehicle, driving onto a curb or swerving suddenly.
Can they be avoided?
Slowing down is the best way to prevent rollover accidents. Also, avoid sudden maneuvers, especially at high speeds, and don't drink and drive. Sixty percent of all fatal rollover accidents involve alcohol.
If you're young, be extra careful. The average age of drivers involved in fatal rollover crashes is substantially younger than that for drivers in all fatal crashes combined, according to National Highway Transportation Safety Administration statistics.
And wear a seat belt. Government researchers say seat belts are highly effective in preventing deaths in rollover accidents.
How to react
If your wheels leave the road onto a soft shoulder, don't quickly spin the steering wheel back toward the highway. Ease the car back onto the road by giving the steering wheel a quarter turn back to the road.
If you start to skid while on the roadway, ease off the accelerator. If the rear tires are sliding, steer in the direction you wish to go.