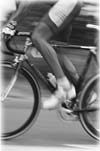 The best bike for you depends on factors such as your riding style, terrain, body size, and budget. Making a well informed buying decision takes some research and effort. So, before visiting a bike shop for a test ride it is recommended that you consider why you are buying a bicycle.
If you do, the shopping process will be quicker and easier. Which of the three general bike categories best describes your intended use and experience?
Road Bikes: Ideal for racing and touring. These bikes are lightweight, sophisticated and rather fragile pieces of equipment. Road bikes perform best on smooth pavement and are not recommended for rough terrain. This might be your choice if you are looking for speed and distance and are an experienced bicyclist.
Hybrid Bikes: Great choice for urban and light off-road recreational use. Hybrid bikes fall between road and mountain bikes. Hybrids can include so-called"comfort bikes" which offer a cushy seat, straight handlebar and are ridden in a very upright position. Mountain Bikes: Rugged "go-everywhere" bikes designed for off-road cycling. Special features include thicker tires for stability and traction, a straight handlebar, powerful brakes, a number of speeds, and suspension forks to absorb shock. Once you have chosen a bike that meets your needs, you'll need to make sure it "fits" properly.
Here are three important sizing tips:
Size: Straddle the top of the tube with feet flat on the ground. You'll want 1" clearance between the crotch and tube for road bikes and 1"- 3" for hybrids. For mountain bikes, the distance can be greater. On bikes with a sloping top tube, use a yardstick to simulate a horizontal bar. This rule also applies when buying your child's bike. Choosing a bike that?s too big, so he or she can "grow into it", often means it is hard to mount or dismount, hard to control and unsafe


Saddle: Adjust the height of the saddle so that the leg can be stretched to the lowest pedal position (when fully seated on the bike) and the knee is not excessively bent when at the highest position. For biking on rough terrain, hybrid and mountain bike seats can be lowered up to an inch.


Handlebars: Adjust the handlebar height so the highest point is always lower than the top of the saddle.