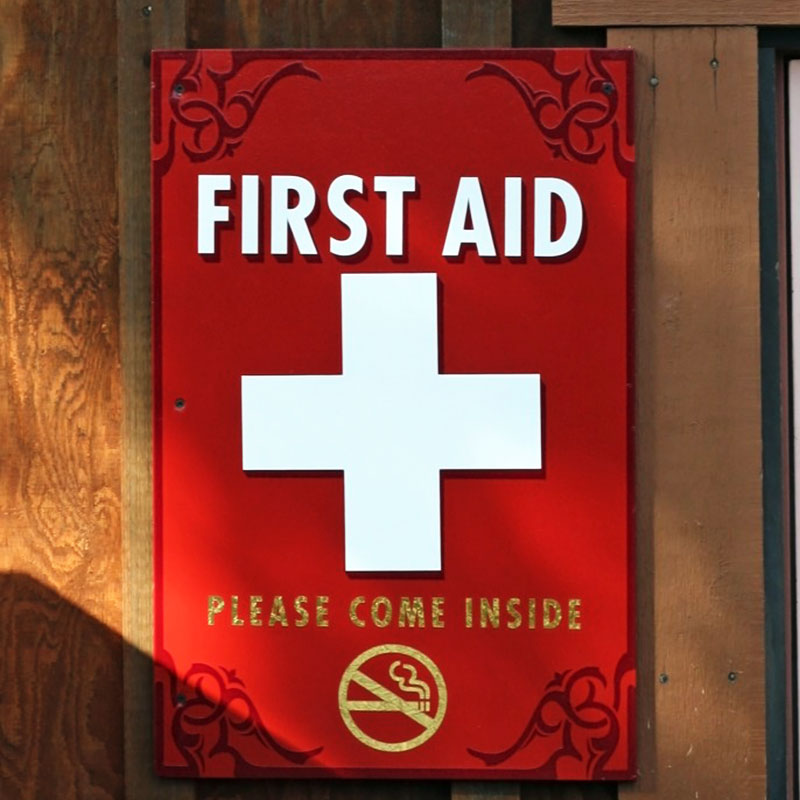 The six basics for your disaster supplies kit should include
Water
Food
First aid supplies
Clothing and bedding
Tools and special items
Water
Water is the most essential element in any supplies kit. You can go for weeks without eating, but only a few days without water. Keep at least a three-day supply of drinking water for each person — two quarts a day for adults, even more for children, the elderly, and nursing mothers. You'll need additional water for food preparation and hygiene. It is best to store at least one gallon per person, per day.
Never ration water. Drink what you need for today and try to find more for tomorrow. Store water in plastic containers, such as soft drink bottles or milk jugs. Or, just buy bottled water. It should be kept in a dark area, preferably on the ground.
You can purify water by boiling it, adding water purification tablets or adding household liquid bleach that contains 5.25% sodium hypochlorite. Do not use scented bleaches, colorsafe bleaches or bleaches with added cleaners. Add 16 drops of bleach per gallon of water, stir and let stand for 30 minutes. If the water does not have a slight bleach odor, repeat the dosage and let stand another 15 minutes.
If you're caught without water, use the water in your hot water tank, the water left in your pipes, ice cubes and -- as a last resort -- the water in your toilet tank (not the bowl).
Food
Always have a two-week supply of food on hand. The best emergency foods are non-perishables that don't need cooking. Remember, you may not be able to use your gas or electric stove. Emergency cooking can be done in the fireplace or outdoors on a charcoal or propane grill or camp stove.
Stock foods high in nutrition and non-thirst provoking. Familiar foods can help ease the trauma of change and provide a feeling of security. Don't forget any special dietary needs. Make sure you have a manual can opener and disposable utensils.
First Aid Supplies
It's best to have a first aid kit in your home and each car. A first aid kit should include:
A First Aid Manual
Sterile Adhesive Bandages in Assorted Sizes
Sterile Gauze Pads
First Aid Tape
Triangular Bandages
Roll Bandages
Scissors
Tweezers
Antiseptic Wipes (towelettes)
Thermometer
Petroleum Jelly
Assorted Sizes of Safety Pins
Isopropyl Alcohol
Antiseptic Soap
Aspirin or Non-Aspirin Pain Reliever
Anti-Diarrhea Medication
Antacid for Stomach Upset
Prescription Drugs
Nose and Eye Drops
Hearing Aid Batteries
Contact Lens Supplies
Spare Eyeglasses
Needle
Clothing and Bedding
Make sure you have at least one complete change of clothing and footwear for each person, including:
Heavy Duty Work Clothes
Sturdy Shoes with Extra Socks
Rain Gear
Sleeping Bag or Extra Blankets
Hat and Gloves
Thermal Underwear
Tools and Supplies
Emergency Preparedness Manual
Battery-Operated Radio with Extra Batteries
Flashlights (more than one) with Extra Batteries
Gas or Propane Lantern with Extra Fuel
Candles and Matches in a Waterproof Container
Fire Extinguisher
Aluminum Foil
Plastic Storage Containers
Signal Flare
Plastic Sheeting
Whistle
Needles and Thread
Medicine Dropper
Eye Protection Goggles and Dust Masks
Shovel
Hammer
Pliers
Screwdrivers — Regular and Phillips
Pry Bar
Knife
Adjustable Wrench for Turning Off Gas Valve
Toilet Paper, Towelettes
Paper Towels
Liquid Detergent
Personal Hygiene Items
Five-Gallon Plastic Bucket (with tight fitting lid, for use as emergency toilet)
Plastic Garbage Bags and Ties (for disposing unsanitary materials)
Disinfectant
Rubber Gloves
Special Items
For Adults:
Prescription Drugs
Spare Eyeglasses
Contact Lens Supplies
Hearing Aid Batteries
Denture Supplies
Insect Repellent
Mirror
Insulin
For Babies:

Diapers
Milk or Formula
Powdered Milk
Bottles
Children's Medications
Special Toys or Games
Important Documents Storage for Emergencies
Keep important documents in a portable, waterproof container.
Wills, Insurance Policies, Contracts, Deeds, Stocks and Bonds.
Passports, Social Security Cards and Immunization Records.
Bank Account and Credit Card Numbers.
Copies of Family Records — Birth, Marriage and Death Certificates.
Reading and Writing Materials.
Money for Emergencies
A "stash of cash" is best after a disaster. Credit cards might not be accepted and bank machines may not be working.